Welcome to our New Website
Interior Elegance was founded in 1872 by Jack Spencer and resurrected in 1976 by his great-grandson John Bailey. John has been involved in the building industry since the age of 14, having served a full seven years indentured time served Apprenticeship. John is still presently very active in the company as Managing Director and is also involved in the companies day-to-day work load.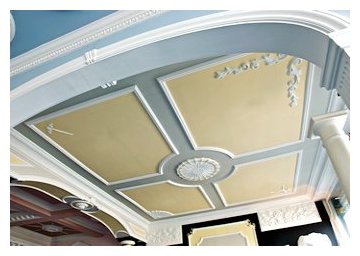 Being a family company, we give caring, informative and professional guidance to both the public and trade alike. Either from our North West, Bolton Road showrooms here in Walkden, Greater Manchester or by e-mail and we have a form on our contact page that you can use. Nothing is too much trouble, you only need ask. We do not charge for good honest advice.
John Bailey's youngest son Jonathan carries on in the family tradition and is now our Field Director. He has been trained in every aspect of fibrous plaster period mouldings, he along with a highly skilled team of company employees, carry out the fixing. Together they ensure a polite, professional, first class job. They take pride in leaving every room spotlessly clean after them.
Our client base over the years, boasts some very eminent companies and famous individuals. From football managers and  players, through to pop stars, musicians, actors and soap stars. It goes on to include many leading industrialists as well as most major building contractors. 
We are involved in the manufacture and restoration of all period plaster mouldings, and have been fortunate to have worked in some of the most wonderful stately homes, Theatres and churches, as well as old period warehouses and more. Their styles have ranged from Tudor to Jacobean, Georgian to Victorian and right through to Modern. We also subject to request, export our products and ship worldwide in well packed wooden crates.
 All moulds are hand made using traditional methods, as are the lengths of cornice and all fibrous plaster products. Using only the best quality jute sacking, gypsum plasters and associated ancillaries in the manufacture of these beautiful room enhancing period products.
Thank you for taking the time to read this brief history.
We hope you will enjoy browsing through our new web site where you will see just a fraction of the products that we carry in stock, manufacture and expertly fix.


Trade Enquiries Welcome - Free Local Deliveries. - Supply Only Prices or Supply & Fix Prices.
E-mail: enquiries@masteround.co.uk
OUR MOTTO: "NO JOB TOO SMALL - TOO LARGE - OR TOO FAR AWAY."